Fully booked! rking [at] craigtravel.com (subject: Waitlist%20-%20Holland%20and%20Belgium, body: I%20would%20like%20to%20join%20the%20waitlist%20for%20Holland%20and%20Belgium.) (Join the waitlist) to receive $200 savings if space becomes available.
Springtime in Holland, the air is clear, the fields are full of new growth and the flowers are ablaze with colour. Revel in colourful gardens, the picturesque countryside and the great cities of the Netherlands and Belgium. Spread across the delta region of the Rhine, the lowlands of Holland and Belgium are ideally suited for a waterways cruise. For centuries, this intricate network of river channels, canals, and man-made lakes has served as the primary mode of transportation throughout the region.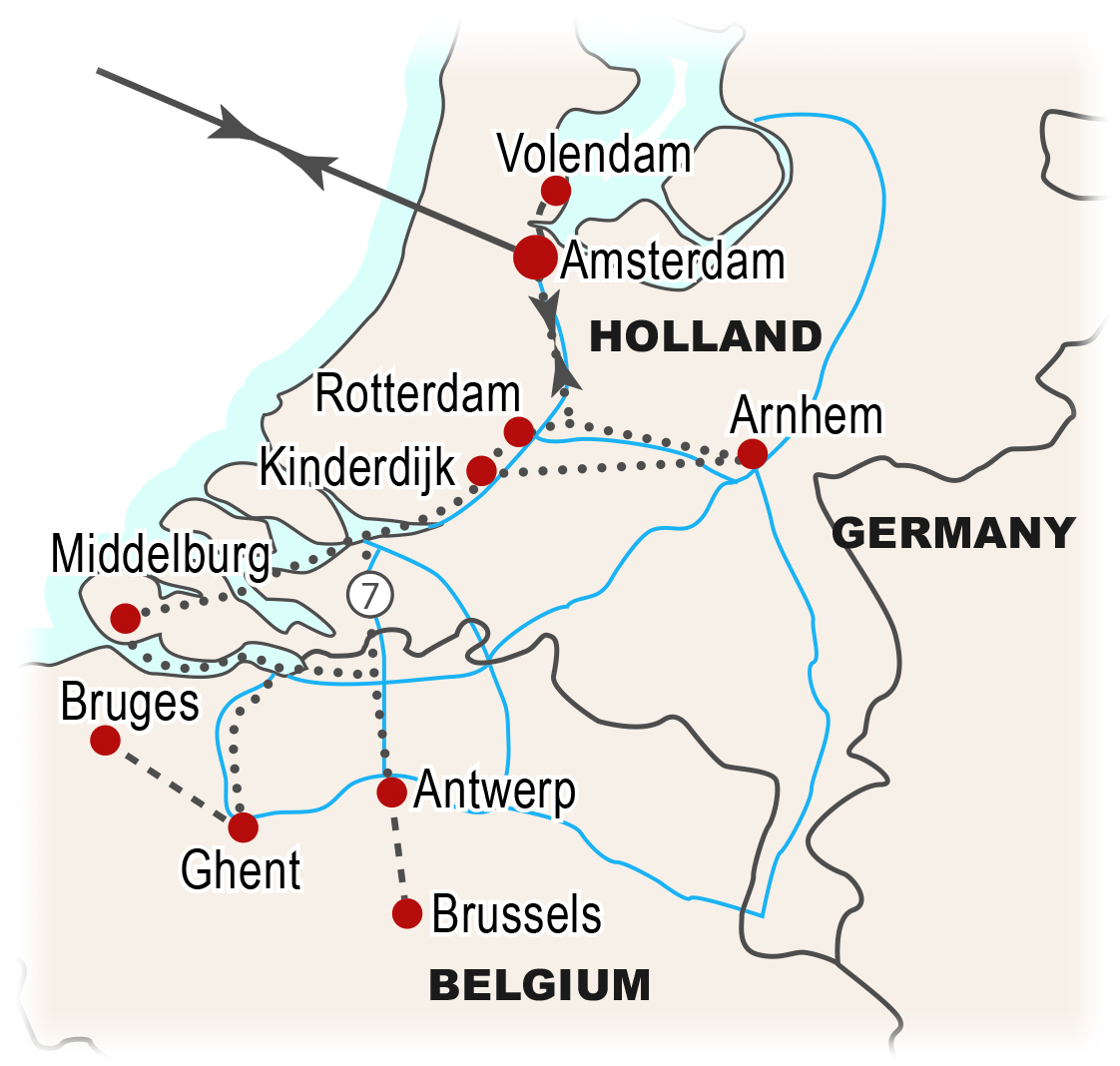 Tour Highlights
Experience the magic of Keukenhof Gardens, a paradise of colours and scents that showcases the world's largest flower garden
Glide through Amsterdam's enchanting canals on a scenic cruise, discovering the city's iconic landmarks along the way.
Step back in time at Kinderdijk, where a mesmerizing collection of 18th-century windmills transports you to a bygone era of Dutch innovation
Dive into the world of cheese-making with a visit to a local factory
Delve into the medieval charm of Ghent and Bruges, wandering through their historic squares adorned with quaint shops, and be captivated by St. Bavo Cathedral, Gravensteen Castle, and Belfry Tower
Inclusive Features
Return economy group airfare from Canada to Amsterdam with Air Canada
7-night deluxe cruise in a comfortable outside cabin with hotel-style beds on the ms Amadeus Imperial or similar
Transfers between airport and the ship plus baggage handling shipside
All meals during the cruise plus quality European wines with every dinner
Shore excursions in each port
Complementary use of onboard bicycles for independent exploration
Welcome cocktail reception and dinner, plus the Captain's Gala dinner
Onboard entertainment including lectures, cooking demonstration and music performances
All gratuities, surcharges, taxes and fees for included services
Airport transfers in Canada or equivalent value with purchase of group airfare
Services of your journey leader and/or cruise director
Itinerary
Expand All
Depart Canada


Tour members from across Canada depart for the Netherlands.
Amsterdam, Netherlands


We are met on arrival and transferred to the ship, our home for the next week. This evening, we will enjoy a Welcome Cocktail reception followed by a special Welcome Dinner.
ms Amadeus Imperial (7 nights)   
Arnhem


Drive through the historic streets of Arnhem, where the dramatic events of World War II's Operation Market Garden unfolded. This military operation involved parachute landings and a significant battle for the Arnhem Bridge, which brought the town melancholic fame. Explore the Airborne Museum in Oosterbeek, once a hotel in mid-1944 before it became the headquarters of the British commander-in-chief, Major General Roy Urquhart, during September of that year. It was from here that Urquhart commanded Operation Market Garden. Notably, the museum received the prestigious 2009 Golden Heron award for its innovative use of spatial media.
In the afternoon, embark on a captivating journey to the Kroller-Muller Museum, renowned for proudly housing the second-largest collection of Van Gogh paintings. Marvel at evocative works by artists such as Piet Mondrian, Paul Gauguin, and Pablo Picasso. As the evening sets in, our enchanting cruise continues as we make our way to Middelburg.   
Middelburg, Belgium


Sail through the Dutch region of Zeeland this morning arrive around noon in Middelburg, a city noted for its 1,100 large and small monuments. Our next stop is the Delta Works, an engineering feat and the world's largest storm surge barrier, which was designed to safeguard against floods such as the North Sea Flood of 1953. It stands as a testament to the resilience of the Dutch people who have successfully tamed their environment. Later, head to the charming town of Veerre which was once a thriving trading port in the Middle Ages due to its wool trade with Scotland. Veere is now a favourite spot for visitors due to its picturesque scenery.  
Ghent / Bruges


In Ghent, the real jewel of Flanders, we encounter a city that has gracefully preserved its medieval heritage while embracing the future. The city centre is a delight to explore with its rich Flemish heritage full on display. Our city tour includes several highlights of the city where Emperor Charles V was born, such as St. Bavo's Cathedral with its world-famous triptych altar depicting the citizens of Ghent by Jan van Eyck, Gravensteen Castle, and the Belfry Bell Tower. Later, we make our way to Bruges often referred to as the "Venice of the North" due to its canal systems. It is undeniably one of the most beautiful cities in Europe. As you walk along the maze of winding, cobbled alleyways and romantic canals, you will be transported back to medieval times. After our exploration of Bruges, we will return to Ghent, allowing you free time to further discover and enjoy the city on your own before casting off again.
Antwerp / Brussels


Antwerp, the second-largest city in Belgium, welcomes us today. Our morning will be dedicated to touring Brussels, the captivating capital of Belgium. Be enchanted by its lively squares, scenic boulevards, and iconic monuments. In the afternoon we venture to Antwerp, one of Europe's most historic ports. Our city tour takes us to the impressive Cathedral of Our Lady, Belgium's largest Gothic church. We will also have the opportunity to stroll through the charming old city centre, where bustling pedestrian ways intertwine with architectural wonders. Before our return to the ship, we will take a leisurely stroll through Europe's oldest shopping mall.
Rotterdam, Netherlands


Journey to Kinderdijk, home to the largest group of 18th century windmills in Holland. Delve into the rich history of these windmills and learn about how they have evolved alongside modern technology. Afterwards, we set course to the famous Keukenhof Gardens, a haven of natural beauty boasting a breathtaking showcase of blooming flowers. Amidst this floral paradise, we will also discover tranquil ponds, vibrant sculpture gardens, lush greenhouses and even a windmill waiting to be explored. To conclude the day we will have a special Captain's Gala Dinner.
Amsterdam


Let the vibrant city of Amsterdam unfold before us as we set out on a morning tour. A scenic canal cruise and a sightseeing expedition will introduce us to the city's most remarkable landmarks, from the fascinating Museum Quarter to the lively flower market and the majestic Royal Palace. Continuing our journey, we venture to the old fishing village of Volendam, where we will take a leisurely stroll through its quaint streets. A visit to a local cheese factory will give us insights into the fascinating cheese-making process. Finally, we walk through the idyllic village of Edam, absorbing its timeless charm, before returning to Amsterdam.
Amsterdam / Canada


All too soon our journey through the Dutch waterways draws to a close as we say "tot ziens" (good day) to our newfound friends and board our return flights to Canada.
Have any questions? Contact Roselle at

rking

[at]

craigtravel.com

or call 1-800-387-8890
ms Amadeus Imperial
The elegant ms Amadeus Imperial fits perfectly with the traditional elegance of the Amadeus cruise line fleet for a delightful cruise through the waters of Holland and Belgium.
     With 68 cabins (108 - 161 sq. ft.) and 8 suites (237 sq. ft.), the ms Amadeus Brilliant will carry passengers in spacious comfort. Purpose-built to sail the safe scenic waters of Europe's rivers, she has three decks with cabins and public rooms plus a spacious Sun Deck for viewing the countryside.
     All cabins are outside, each featuring either double or twin sized bed, a private bathroom with shower, telephone, TV and air conditioning (the ship operates on 220 volts). Cabins on Haydn Deck (lowest) have a picture window while cabins on Strauss and Mozart Decks have full height glass patio doors that open creating a French Balcony. On the Haydn Deck you will also find a hair salon, massage area and fitness room.
     On the Strauss Deck is the Restaurant, Reception, and on board shop. On Mozart Deck you will find a Panorama Bar, Lounge area and the Amadeus Club. The open Sun Deck features deck chairs, a Lido Bar, chessboards and a shuffleboard. The ship is a non-smoking environment, except for some areas on the Sun Deck (subject to change). There is a small elevator on the ship which serves Strauss, Mozart and Haydn Decks.

Stateroom Upgrades Available
Category – Stateroom Description (Deck)
C4 Outside (Haydn - Panoramic Window)
Category – Stateroom Description (Deck)
C1 Outside (Haydn - Panoramic Window)
Category – Stateroom Description (Deck)
B4 Outside (Strauss - French Balcony)
Category – Stateroom Description (Deck)
B1 Outside (Strauss - French Balcony)
Category – Stateroom Description (Deck)
A1 Outside (Mozart - French Balcony)
Category – Stateroom Description (Deck)
Suite Deluxe (Mozart - Walk-out Balcony)
Cruise Cost in Canadian Dollars per person
Cruise Only (Join / Leave at Amsterdam)
$4,375
Halifax / St. John's
$6,125
Winnipeg / Thunder Bay
$6,175
Regina / Saskatoon / Victoria
$6,265
Calgary / Edmonton / Vancouver
$6,195
Fully booked! Join the waitlist to receive $200 savings if space becomes available.
rking [at] craigtravel.com (subject: Waitlist%20-%20Holland%20and%20Belgium, body: I%20would%20like%20to%20join%20the%20waitlist%20for%20Holland%20and%20Belgium.) (Join the Waitlist)class="button"
Deposit is $700 per person. Final payment is due December 12, 2023.
Cruise price is based on sharing a twin-bedded stateroom with private bathroom. Prices are based a minimum 20 members and on rates, taxes, and fees effective April 2023 and are subject to change due to factors beyond our control. This river cruise will be escorted with a minimum of 20 travellers. Cancellation penalties of $300 per person apply at time of booking for this cruise. Please discuss this and your insurance needs with a Craig Travel Sales Specialist when making your reservation.
Insurance is NOT INCLUDED but is highly recommended. Premiums are calculated based on the individual's age, destination (country), trip length, and trip booking window – please contact our staff to receive a quote. Your coverage starts on the effective date of your confirmation of coverage. Please discuss your insurance coverage prior to booking. Refer to terms and conditions for more details.