A Truly Extraordinary Cultural Odyssey
Central Asia, the "Land of the Caravans", is deeply influenced by the historic Silk Road Caravan routes. Today, Uzbekistan serves as a living testament to the legacies of remarkable empire builders.
On this journey, we will immerse ourselves in Uzbekistan's vibrant cultural fabric and rich history. The warm hospitality of the locals will embrace us as we are welcomed into their customs and traditions. We will witness the enchanting art of atlas and adras (vivid traditional fabrics) which are recognized as a UNESCO Intangible Cultural Heritage, and marvel at the intricate tilework that adorns the majestic mosques and madrasahs. Taste the flavours of Uzbek cuisine and savour the delightful melodies of traditional music and dance.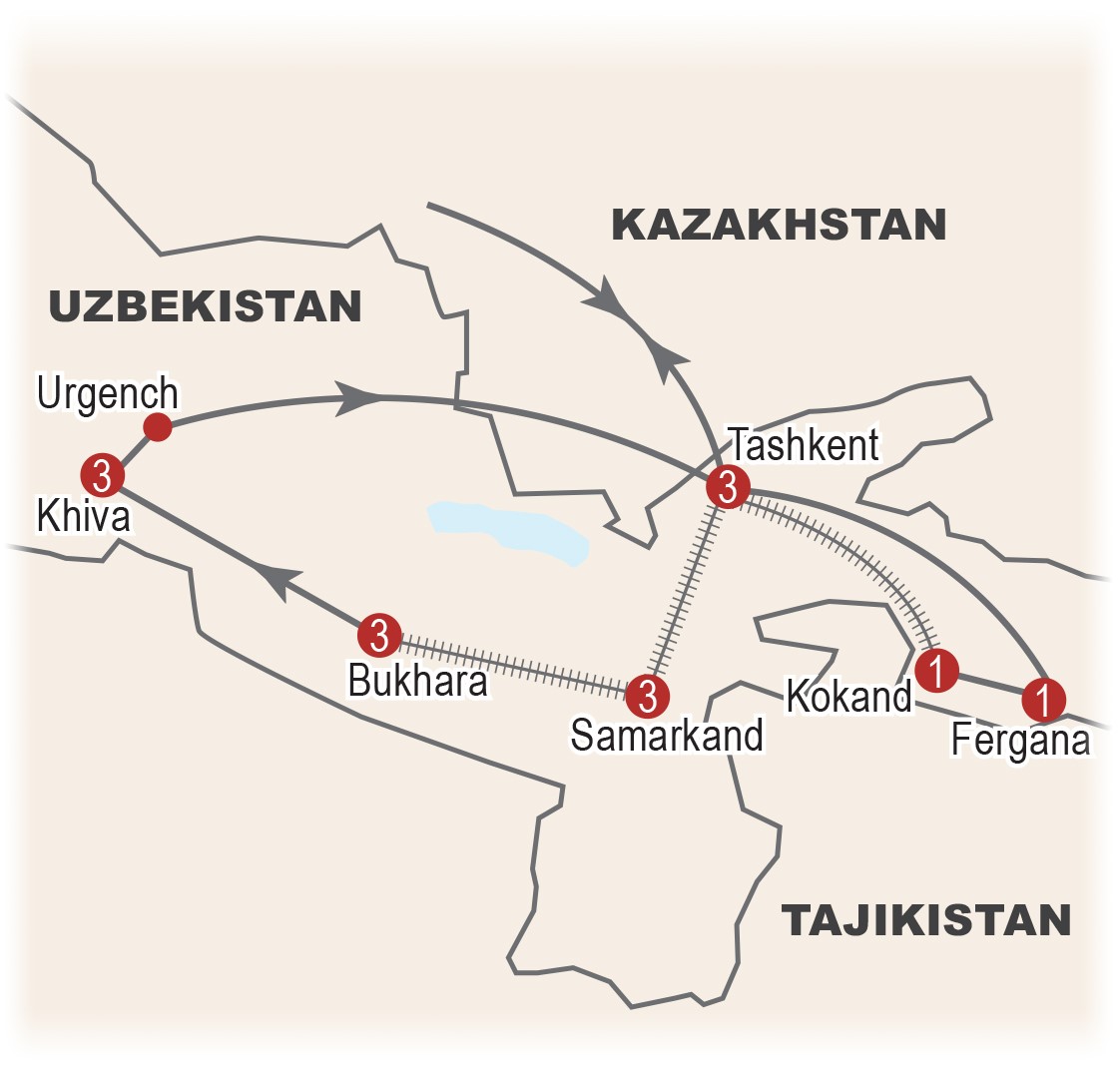 Tour Highlights
Four UNESCO World Heritage Sites: the Historic Centre of Bukhara, Itchan Kala (Khiva), Samarkand, and Western Tien-Shan
Witness the enchanting art of atlas and adras vivid traditional fabrics which is recognized as a UNESCO Intangible Cultural Heritage
Enjoy lunch at the residence of a master ceramic artist and tour his private studio in Rishtan
Special dinners with Uzbek entertainment in Samarkand and Bukhara
Exclusive dinner prepared by a master chef in their home in Samarkand
Engage with locals, including an architect, students, artists and more
Learn pottery from a master and enjoy lunch in his courtyard in Bukhara
Inclusive Features
Return economy group airfare from Canada
15 nights in comfortable, first-class, and deluxe hotels as indicated or similar
Travel by modern, climate-controlled motor coaches and high-speed trains (where available)
41 meals included as noted (B - 14 breakfasts, L - 13 Lunches, D - 14 dinners)
Baggage handling of one suitcase per person at hotels
All entrance fees for included visits
All gratuities, taxes, and fees for included services
Services of our Canadian tour leaders and national guide
Airport transfers in Canada or equivalent value with purchase of group airfare
Itinerary
Expand All
Depart Canada


Group members from across Canada gather for the overnight flights to Uzbekistan, losing a day en route.
En Route


Tashkent, Uzbekistan


Shortly after midnight, we will arrive in Tashkent, the capital and largest city of Uzbekistan. We will transfer to our central hotel, where our rooms are waiting for us. After a free morning to rest, we will explore the capital. Take a ride on Tashkent's metro (the first in Central Asia, featuring stations adorned with granite, marble, chandeliers, and mosaics) and visit the Museum of Applied Arts, which has an extensive collection of art and handicrafts.
Inspira-S Hotel (3 nights)
Tashkent


See the blend of modern and ancient in Tashkent: The Independence Square, Amir Temur Statue and Square (known as "Broadway" locally), the Tashkent Chimes, and the Monument of Courage. Continue into the old city and visit the Hazrati Imam complex, consisting of Al-Bukhari Madrasah, Barakhan Madrasah, and Tillya Sheikh Mosque, home to the Uthman Quran (the world's oldest dating back to the 7th Century).
Tashkent / Margilan / Fergana


Fly into the beautiful Fergana Valley, the most fertile part of Central Asia. Surrounded by the Tian Shan Mountain Range and watered by the Syr Darya River, this enclave boasts abundant farmlands with stunning landscapes. In 329 BC, Alexander the Great founded a city here and in the 1st century, traders from China established the Silk Road through this area. In Margilan, once home to over a dozen madrasahs (Islamic schools) and 200 mosques, we will have the opportunity to delve into the intricate artistry of traditional ikat and the revered "king of silk" khan-atlas patterns of Uzbek silk fabrics.
Asia Fergana Hotel (1 night)
Fergana / Rishtan / Kokand


Nestled in the foothills of the Alai Range, Rishtan is renowned for its ceramics due to the excellent quality of the local clay. Modern ceramics are noted for their floral and geometric designs in vibrant shades of blues and greens. Enjoy lunch at the residence of a master artist and tour his private studio. Take in the scenic countryside as we make our way to Kokand.
Asmald Palace Hotel (1 night)
Kokand / Tashkent


Kokand, first mentioned as an oasis town in the 10th century, flourished into a trading and religious hub. It boasted 600 mosques and 15 madrasahs. Witness the impressive Khudayar Khan Palace (a 113-room palace), known as the Pearl of Kokand. Later, we will catch a train that will take us over mountain passes and back to Tashkent.
Inspira-S Hotel (1 night)
Tashkent / Samarkand


Travel by fast train to legendary Samarkand a UNESCO World Heritage Site. Built on the ruins of the ancient site of Afrasiab and once called Marakanda, the city is on the main Silk Route between China and Europe. Visit the Gur-Emir Mausoleum, the final resting place of Tamerlane, which was actually built for his grandson. The heavily gilded central dome opens over a set of marble tomb-markers (only Tamerlane's is made of solid jade). Tamerlane's Bibi-Khanym Mosque was the largest in the Islamic world. The very colourful Siab Bazaar is a must for everyone.
Samaria Hotel (3 nights)
Samarkand


Samarkand 'the 'Rome of the Orient', was a thriving trade and religious centre before the rise of Rome and Babylon. The city's masterpiece is Registan, a square adorned with three iconic madrasahs. Originally the main marketplace, Registan's name translates to 'place of sand.' Explore the tombs and mausoleums of Shah-i-Zinda ("place of a living king"). Do not miss the highly recommended Afrasiab Museum. Tonight, enjoy an exclusive dinner prepared by a master chef in their home.
Samarkand


Konigil Tourism Village features a large area with many local craft workshops. Walk through the village and learn about the process of crafting ceramics, carpentry, and vegetable oil production using ancient technologies. Visit a silk carpet factory that uses only natural vegetable dyes. Observe the entire process of dyeing the thread and weaving the carpets. In the workshop of Abdurakhim Mukhtarov, handcrafted paper is made following traditions from the 8th century. This evening, we will dine in a madrasah as we enjoy a beautiful performance from a Uzbek troupe dance.
Bukhara / Gijduvan / Bukhara


Travel by high-speed train to Bukhara and continue to Gijduvan, home to a special school of Uzbek ceramics. After learning from the pottery master, enjoy lunch in his courtyard. For at least five millennia, the region around Bukhara (UNESCO World Heritage Site) has been a centre for trade, scholarship, culture, and religion. An oasis in the desert, Bukhara offers rest to the modern traveller just as it did for ancient travellers. Our hotel is located in the heart of the old city.
Asia Bukhara Hotel (3 nights)
Bukhara


Beautifully restored, the Old Town retains its charm with its central pool, plaza, and domed bazaars. Admire the many styles of brickwork in the surrounding buildings. The Ark Citadel (fortress) preserves the historic residence, trading centre, and audience hall. The 12th century Chashma Ayub Mausoleum marks the site where Ayub (biblical Job) struck the ground with his staff creating a spring. The Poyi Kalon Ensemble with its tall minaret (150 feet) stands prominently in the city, while the Lyabi-Hauz Plaza with its small lake, is the place to meet friends and relax. Enjoy a traditional Uzbek performance with dinner at a former madrasah.
Bukhara


Visit Emir's Summer Palace and the Museum of National Crafts to admire the vivid suzani embroidered coverlets with designs reflecting traditional Uzbek patterns. After lunch, visit a master marionette-maker's private studio to learn the intricate craftsmanship behind traditional puppets featuring expressive faces and authentic Uzbek attire. Admire the early 19th century Chor Minor Madrasah, with four tall slender, blue-topped minarets. Balance of day free to explore on our own.
Bukhara / Khiva


Travel by road to the last great city of the Uzbek countryside, Khiva. Crossing the Kyzylkum (Red Sand) Desert, we return to the ancient Silk Road once used by traders, with camels loaded with goods. Khiva is a living museum, with images of life from centuries ago. Legend has it that Shem, the son of Noah, founded ancient Khiva. It was the capital of the Timurid Empire, a busy slave market and trading centre for three centuries. Our hotel is located next to the South Gate. Asia Khiva Hotel (3 nights)
Khiva


We will spend the morning with our guide, exploring the maze of lanes, mud houses, minarets, madrasahs and mosques. Our walk includes Ichan Kala (walled city) featuring the Kalta Minor Minaret, Kunya Ark (inner citadel), and Rakhim-Khan Madrasah. Discover the Friday Mosque, Tash-Khauli Palace and Harem. This afternoon, we are free to explore this compact walled city with its many craft centres.
Ulli-Hovli / Khiva


Visit the Ulli-Hovli Fortress, built in the 17th century by the Khiva Khan (ruler) and used by both Uzbek and Turkmen people to protect the traders using the Silk Road. Fully restored with mud walls and traditional courtyards, the fortress provides an opportunity to learn about the unique lifestyles and history of the Turkmen people, including traditional yurts and many workshops: blacksmith, carpet weaving, bread making, music and dancing. Meet in the evening for our farewell dinner.
Urgench / Istanbul / Canada


Morning transfer to Urgench where we catch our flights back to Canada, via Istanbul.
Have any questions? Contact Stacey at

sharper

[at]

craigtravel.com

or call 1-800-387-8890

Tour Cost in Canadian Dollars Per Person
Land Only (Join Tashkent / Leave Khiva)
$4,175
Halifax / Winnipeg
$6,975
Saskatoon / Regina / St. John's
$7,175
Calgary / Edmonton / Vancouver
$7,075
To reserve your spot on this tour, please complete the enrollment form, indicating the tour you wish to join and your home city, and forward it with your deposit to:
1092 Mount Pleasant Road
Toronto, ON M4P 2M6
416-484-0926 | 1-800-387-8890
Book with Confidence
For peace of mind, your deposit for this journey is fully refundable until January 24, 2024. Learn more...
Deposit is $700 per person. Final payment is due January 25, 2024.
Refer to inclusive features for details. Tour price is based on sharing a twin or double-bedded room and a minimum of 20 members. Rates, taxes and fees effective May 2023 and are subject to change due to factors beyond our control.
Insurance is NOT INCLUDED but is highly recommended. Estimated premiums range from $278 to $820 plus tax for travel arrangements as noted for up to 85 years of age – please contact our staff to receive a quote. This insurance is effective from the date of purchase and carries limitations on pre-existing medical conditions. Clients 86 years old and older and/or clients residing outside Ontario - contact our staff to discuss procedures. Please discuss your insurance coverage prior to booking. Check our website for the most current information.
Refer to the enrollment form for general information and conditions.