Scenic Landscapes, Incredible Fortresses and Temples
South Korea is a land of dazzling cities, friendly people and scenic landscapes. More than seventy years ago the country's long stable dynastic rule was shattered by war and separation. But those difficult times made the Koreans a resilient people, succeeding economically while still holding on to their unique traditions and fascinating cultural heritage. Korea is littered with fortresses, temples and palaces, many of which are UNESCO World Heritage Sites. Join us in April as we discover these two nations. This will be a small group (max 25) and space is sure to fill quickly; we encourage you to book early to ensure your places on this wonderful new adventure.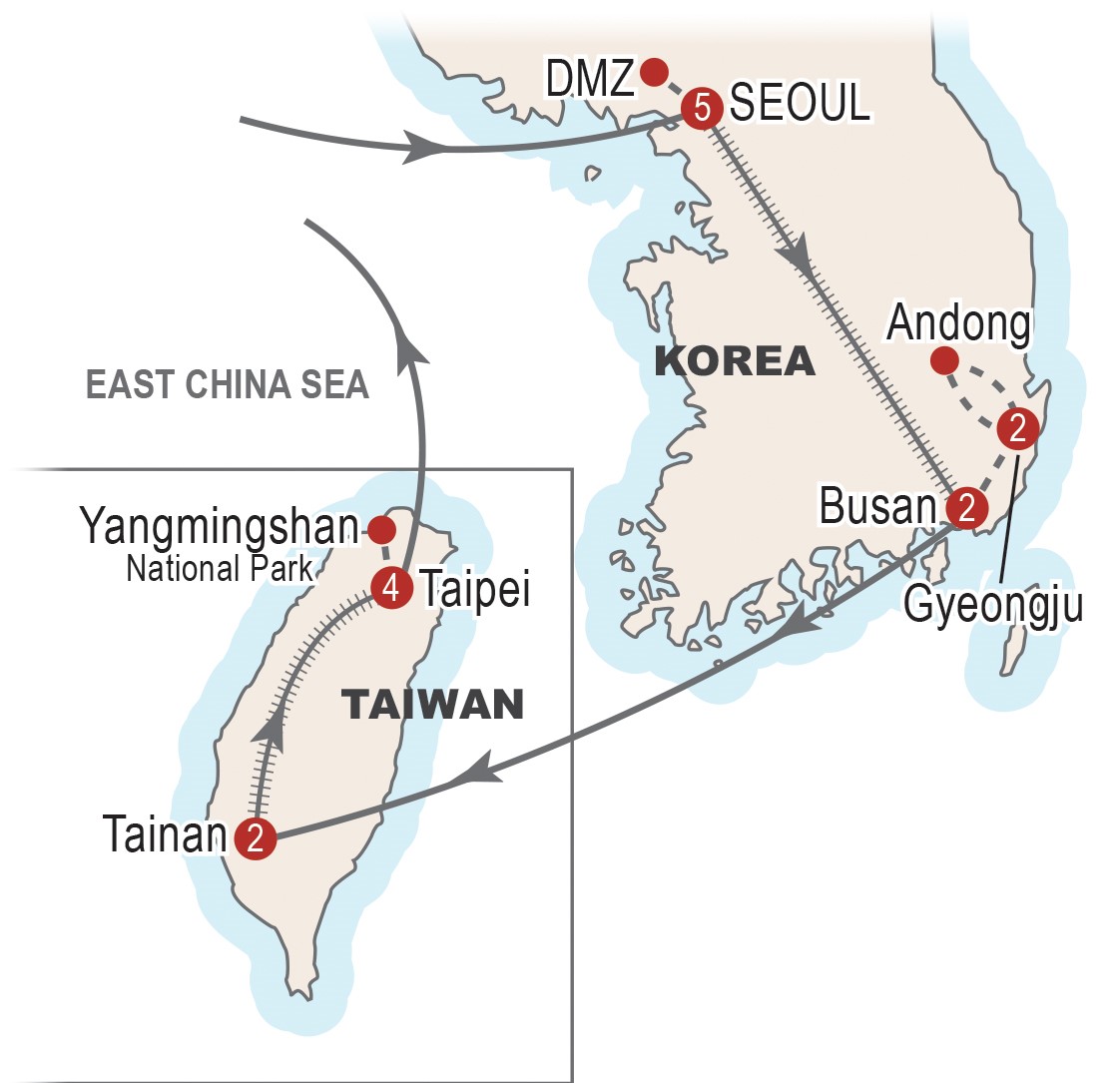 Tour Highlights
Visit to the Demilitarized Zone (DMZ), South Korea
Sample traditional Korean and Taiwanese foods at a number of local restaurants
Visit six UNESCO World Heritage Sites in Korea including Jongmyo Shrine, Changdeokgung Palace, Suwon Hwaseong Fortress, Andong Hahoe, Bulguksa Temple and Seokguram Grotto
Spend a morning at the Korean Folk Village
Visit beautiful Chiang Kai-Shek Memorial Hall, Taipei
Experience the natural wonders of Yangmingshan National Park
Enjoy views from atop Lotte World Tower, Busan Tower, and Taipei 101
Witness the modern architecture of Seoul including the Dongdaemun Design Plaza
Inclusive Features
Return economy class airfare from Canadian cities listed
Deluxe, first class and best available hotels as indicated or similar
Travel by private coach
All 41 meals (B - 15 breakfasts, L - 13 lunches, D - 13 dinners)
Services of your Canadian journey leader plus professional English speaking tour managers/guides
All gratuities, surcharges, taxes and fees for included services
Airport transfer in Canada or equivalent value with purchase of group airfare
Itinerary
Expand All
Canada / Seoul, South Korea


Tour members from across Canada begin our journey with overnight flights to South Korea.
Arrive Seoul, South Korea


Upon arrival in Seoul, we shall be met and transfer directly to our hotel. Take some time to freshen up and rest this afternoon before we gather for our dinner. 
Lotte City Myeongdong Hotel (5 nights) 
Seoul


Our first morning in Seoul starts at Changdeokgung Palace and its famous Rear Garden, an UNESCO World Heritage Site, built in 1405 during the Joseon Dynasty, as the second royal palace. Bukchon Hanok Village is the only place in Seoul where hundreds of hanoks (traditional houses) are clustered together; strolling the streets gives the feeling of going back in time. Tucked away on a side street we visit the Kum Bak Yeon studio to make a traditional gold leaf imprinted card. The royal Jongmyo Shrine (UNESCO) is dedicated to the performance of ancestral rites for the deceased kings and queens of the Joseon Dynasty. The simple and elegant buildings have faithfully kept their original forms since the 16th century, and the main hall is an outstanding example of traditional Korean architecture. Next is Namdaemun Market, the largest traditional market in Korea. Dinner tonight is at a local restaurant. 
Seoul


Dongdaemun Design Plaza has become one of the cities more iconic locations since it was completed in 2014. The bold architectural design encompasses delicate curves, modern lighting, and an attention to the crafting of space; often giving visitors the feeling of standing in a futuristic space station. The Seoul Sky Observatory is located at the top of the Lotte World Tower, the world's fifth tallest building at 123 stories high, and the only place where you can take in a gorgeous 360-degree view of Seoul. Drive through the COEX Mall to see the large screen digital signage and feel the modern city vibes. Bongeunsa Temple is a Buddhist temple just south of the COEX Mall. Before the 1960s, the temple grounds were surrounded only by the countryside with farms and orchards.  Since then, the area has become the center of one of the wealthiest and busiest places in Seoul, making the temple a rather interesting mix of traditional and modern Seoul. 
Seoul


This morning, visit the Korean Folk Village for glimpses of Korean lifestyles of centuries past. There are over 260 traditional houses plus a small amphitheater. After lunch, visit another UNESCO site, Suwon Hwaseong Fortress, a well preserved 1794 structure from the Joseon Dynasty built of stone and oven baked bricks. We will also visit the Hwaseong Hanggung, the temporary palace where King Jeongjo stayed while visiting his father's nearby tomb.  
Demilitarized Zone (DMZ)


After the Korean War (June 1950 through July 1953), South and North Korea moved in opposite directions, establishing a border that cut the Korean Peninsula in half. Stretching for 2 km on either side of this line, the DMZ is the most heavily armed border in the world. Today the DMZ is completely safe and provides us glimpses into the enigmatic state of North Korea. Highlights of our visit will include Imjingak Park, the DMZ film presentation, the Freedom Bridge, Exhibition Hall, the 3rd infiltration tunnel (almost one mile in length), Dora Observatory, and Dorasan Station. Enjoy the artworks display along the streets in harmony with nature's beauty at Heyri Art Village.
Seoul / Busan


Enjoy the varied countryside as we roll, very quickly, on our KTX bullet train to Busan. On arrival we meet our guide and coach to visit the Jagalchi Fish Market, Korea's largest seafood market selling both live and dried fish. BIFF Square was recently remade into a cultural tourist attraction promoting the advancement of Korea's film industry. The 428-meter-long street stretching from the Buyeong Theater in Nampo-dong to the overpass in chungmu-dong was divided into "Star Street" and "Festival Street". Busan Tower is a symbol of Busan that stands proudly at 69 meters above sea level at a height of 120 meters. Loved by locals and tourists alike, the tower offers a stunning view.
Crown Harbor Hotel (2 nights)
Busan


Busan is South Korea's second city. Located on the south eastern coast this port city boasts the second largest population in the country and known for its beautiful beaches, temples, shopping, and seafood. The Buddhist Haedong Yonggungsa Temple is one of the few temples located along the coast. Just down the shoreline is the rather large and beautiful Haeundae Beach. Adjacent to the beach is the Nurimaru APEC House, once host to an APEC summit meeting and surrounded by beautiful dense camellia and pine trees. Next we move into the city to visit the only memorial cemetery dedicated to UN Soldiers. The National Memorial Museum of Forced Mobilization under Japanese Occupation, serves as a memorial for the victims and the bereaved families, a site for history education on the forced mobilization, and as a cultural space for locals. 
Busan / Gyeongju


This morning we travel to Gyeongju, capital of the Shilla Dynasty that ruled Korea for nearly one thousand years, until 927 AD. On arrival we join a cooking class to learn about Jang (fermented bean paste) while making traditional Bulgogi. After enjoying our creation we visit Bulguksa Temple, which is a testimony to both the skill of Shilla architects and the depth of the Buddhist faith at the time. The temple now holds seven national treasures, a number of additional important heritages, and was designated a UNESCO World Cultural Heritage Site along with the nearby Seokguram Grotto. Within the Daereungwon Tomb Complex is Cheonmachong Tomb, a typical upper-class tomb of the Silla period. Gyeongju Donggung Palace and Wolji Pond was a secondary palace used by the crown prince of the Silla Kingdom, as well as a banquet site for important  events and visitors. 
Lahan Hotel Gyeongju (2 nights) 
Andong


Visit the UNESCO Heritage Village of Andong Hahoe. Founded around 1 BC, the current village dates from the 16th Century and retains much of the architecture and arts of the Joseon (or Chosen) dynasty. Along with its dramatic setting and original structures, the village is also noted for its food. The 387-meter-long Woryeonggyo Bridge runs across the Andong Dam and is the longest pedestrian overpass made of wood. The Andong Hahoe Mask Museum consists of five permanent exhibition halls and one special exhibition hall, housing a wide range of masks from all over the world along with Hahoe masks. 
Gyeongju / Busan / Tainan, Taiwan


Say farewell to Korea as we fly to the former capital of Taiwan. Tainan is the island's oldest city, and the heart of traditional Taiwanese culture. Balance of the day is at leisure.
Fushin Hotel Tainan (2 nights)
Tainan


Today's historical visits include the Dutch Fort, built in 1634 during the Dutch rule on the island of Formosa; Chikan Lou, also known as Chikan Tower or Fort Provintia, is among the most important historic sites in Tainan City as well as all of Taiwan; Koxinga Shrine, built in memory of the work and achievement of Cheng Cheng Kung. Later we view Taijiang National Park by boat. 
Tainan / Taipei


Visit the expansive Chimei Museum that displays a wide array of art, ancient arms and armour, and one of the finest collections of classical musical instruments in the world. This afternoon we take a bullet train the full length of the island to the capital city Taipei. Dihua Street is a lively cultural hub and expresses the cities thriving artistic side.
Riviera Hotel (4 nights)
Taipei


Our full day Taipei city tour begins at the Chiang Kai-Shek Memorial Hall, a local landmark which mimics Beijing's Tiantan. See the changing of the guards and Taichi movement. Next is the National Palace Museum which hosts a permanent collection of nearly 700,000 pieces of Chinese art and artifacts. Take a stroll in the trendy  Ximending District, before our evening at the Raohe Night Market. Taiwan is known for its lively night markets, where vendors sell various kinds of merchandise but where the real excitement comes from is the delicious food.   
Yangmingshan National Park


Enjoy the magical natural beauty of the Yangmingshan National Park, the only park in Taiwan with volcanic geography. Stroll through an area with fumaroles (steam vents), sulfur deposits, and natural hot springs. Next visit Pingxi, a town rich in culture and history, before we experience releasing traditional Chinese sky lanterns. Last we visit the forty meter tall Shifen Waterfall.  
Yilan / Taipei


Drive to Yilan, a beautiful county situated in Northeastern Taiwan, surrounded by both the sea and mountains. Visit the National Center for Traditional Arts, the largest exhibition and performance site for traditional arts with rich collection of cultural antiques in Taiwan. We will have an opportunity to experience indigo dyeing. Next we visit Taipei 101, the most iconic building in the city. On the 89th floor we have a panoramic view of the city. 
Taipei / Canada


Enjoy a day a leisure to rest, shop, and experience the capital at your own pace. In the afternoon we gather for our return to Canada. 
Have any questions? Contact Stacey at

sharper

[at]

craigtravel.com

or call 1-800-387-8890

Tour Cost In Canadian Dollars Per Person
Land Only* (Join / Leave Hotel)
$8,695
Calgary / Edmonton
$10,495
Regina / Saskatoon
$10,595
Ottawa / Montreal
$10,695
Halifax / Winnipeg
$10,845
To reserve your spot on this tour, please complete the enrollment form, indicating the tour you wish to join and your home city, and forward it with your deposit to:
1092 Mount Pleasant Road
Toronto, ON M4P 2M6
416-484-0926 | 1-800-387-8890
Book with Confidence
For peace of mind, your deposit for this journey is fully refundable until January 10, 2024. Learn more...
Deposit is $700 per person. Final payment is due January 11, 2024.
*Land only excludes airport transfers in Seoul and Taipei. Airfares and air carriers are subject to change and will be confirmed prior to final payment. Airfares from other gateways are available on request. Refer to inclusive features for details.
Land only price includes internal flights between South Korea and Taiwan. Tour price is based on sharing a twin-bedded room at hotels. Prices are based on a minimum 20 members and on rates, taxes and fees effective July 2023 and are subject to change due to factors beyond our control. Group to be escorted with a minimum 20 group members.
Insurance is NOT INCLUDED but is highly recommended. Premiums are calculated based on the individual's age, destination (country), trip length, and trip booking window – please contact our staff to receive a quote. Your coverage starts on the effective date of your confirmation of coverage. Please discuss your insurance coverage prior to booking. Refer to terms and conditions for more details.