Let Colombia's rhythms, cuisine, and wilderness stir your soul
Combining the indigenous population with Spanish influences dating from the 16th century colonization, the mixture of African cultures brought by slavery and the more recent influx of immigrants, Colombia has become a melting pot of cultures and ethnicities. Over the past two decades, Colombia has gone through dramatic changes, becoming one of South America's most desired destinations. Today it enjoys a relaxed and safe environment, making it a delightful destination for us to explore.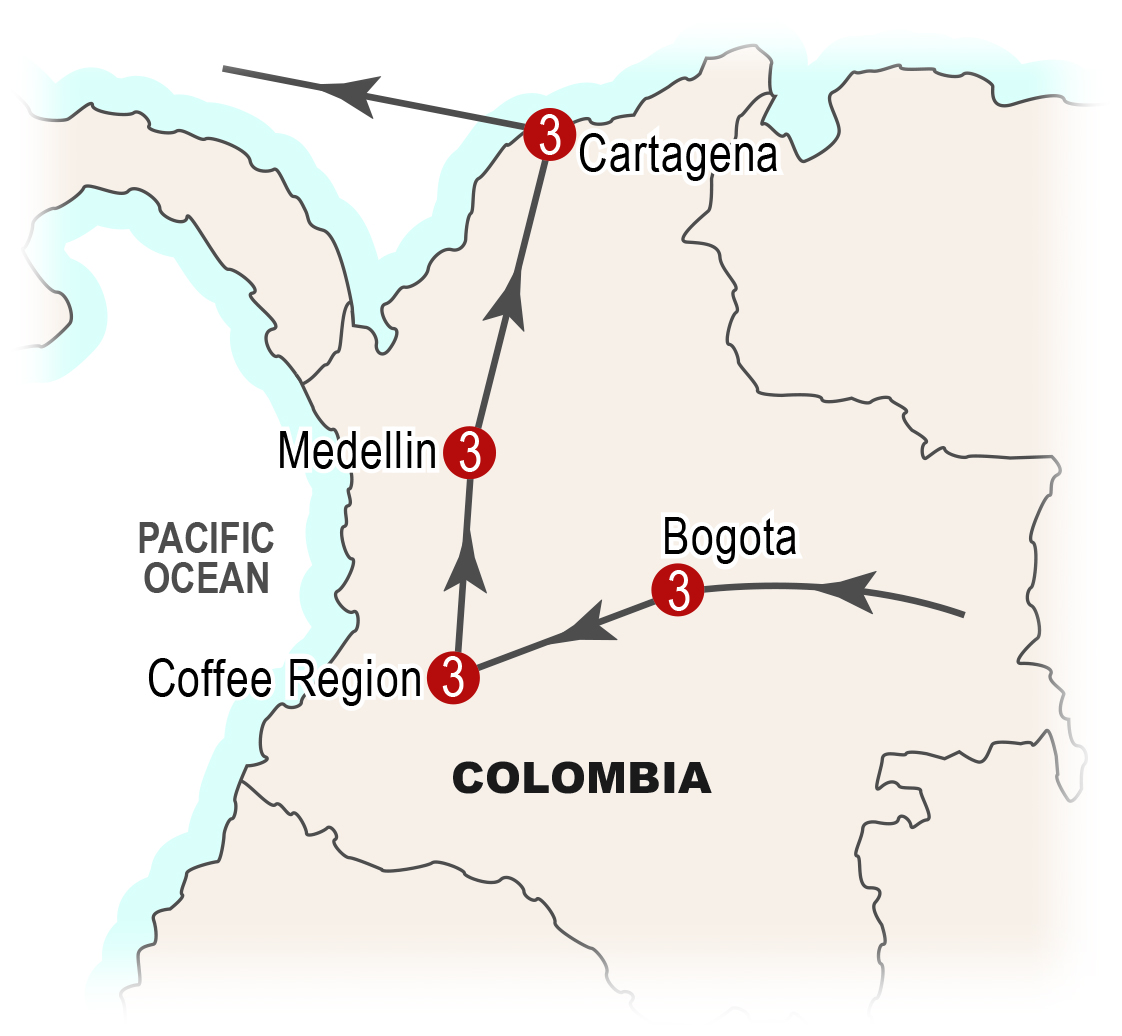 Tour Highlights
3 nights in Bogota, Colombia's vibrant capital
Visit the world-famous Gold Museum in Bogota
Take in stunning cable car vistas of Medellin and Monserrate Mountain.
Discover the impressive cathedral of Zipaquira, carved into the earth inside a salt mine
3 nights in Colombia's picturesque coffee region
Delve into Colombia's coffee culture firsthand during a coffee tour
Explore Cocora Valley (Valley of the Palms) and the colourful town of Salento
3 nights in Medellin, the "City of Eternal Spring"
3 nights in the historic UNESCO colonial city of Cartagena
Inclusive Features
Return economy airfare plus internal domestic flights
Accommodations in first class and best available hotels as indicated or similar
26 meals included as noted in the itinerary (B - 13 breakfasts, L - 10 lunches, D - 3 dinners)
All sightseeing and entrances fees as described
Transportation in comfortable air-conditioned coaches
Gratuities for all included services
Services of your Canadian journey leader plus English-speaking national and local guides in Colombia
All current taxes, surcharges and fees
Airport transfers in Canada or equivalent value with purchase of group airfare
Itinerary
Expand All
Depart Canada


Tour members gather in Toronto for the evening direct flight to Bogota.
Bogota


Upon arrival, we are met and transferred to our centrally located hotel for an early check-in. The remainder of the day is at leisure to unwind and acclimatize to our new Andean setting until we gather in the evening for our Welcome Dinner.
Bioxury Hotel (3 nights) 
Zipaquira / Bogota


Zipaquira, a small town just outside of Bogota is home to the Salt Cathedral. This remarkable underground structure was built 180m deep in a salt mine that has been utilized since Pre-Columbian times. Featuring intricate salt and marble sculptures, it is considered one of the seven wonders of Colombia. Back in Bogota we enjoy an afternoon at leisure.
Bogota


Our exploration begins with the colourful Paloquemao Market where you will find delicious exotic fruits. Become acquainted with the historic epicentre of La Candelaria which is lined with a vibrant display of colonial buildings, housing trendy cafés and bars echoing with live music. Explore the Plaza de Bolivar, encircled by four of Bogota's architectural highlights: the City Hall, the Congress of Colombia, and the venerable Primada Cathedral. The Gold Museum offers one of the finest collections of pre-Hispanic gold in the world with more than 35,000 pieces on display. At Museo Botero, discover the paintings and sculptures of Colombia's most renowned artist, Fernando Botero. Following lunch, ascend the majestic Monserrate Mountain via a cable car and visit the 17th century monastery devoted to El Señor Caído (Fallen Lord) for spectacular views over the city and surrounding area.   
Bogota / Coffee Country


Fly to Armenia, a prominent city in Colombia's renowned coffee region. Our first stop is the Quindio Botanical Gardens, an oasis of natural beauty and home to a butterfly farm. Paths meander throughout the garden unveiling a diverse range of flora. Admire the stunning mountain vistas as we continue to the charming village of Pereira.
Casa San Carlos Lodge (3 nights)
Cocora Valley / Salento


Hop aboard a Willys Jeep as we wind our way through the Cocora Valley, known as the "Valley of the Palms," one of the country's greatest natural wonders. Nestled amidst towering mountains, the valley is dotted with hundreds of giant wax palm trees, which is Colombia's national tree. Enjoy a short walk followed by free time to explore before heading back to the quaint village of Salento. Walk along Calle Real, where you can explore a plethora of handicraft stalls and indulge in the diverse culinary offerings of its abundant restaurants. At the end of Calle Real is a staircase that takes you up to the Alto de La Cruz, a hill adorned with a cross. From this elevated vantage point you can take in fantastic views of the Cocora Valley and the majestic cordillera of the Andean mountains that encircle it.
Finca Romelia Orchids / Coffee Experience


In the heart of Manizales lies Finca Romelia, a sanctuary of biodiversity and natural wonders. With 6,000 orchid plants, 160 bird species, and a fascinating variety of carnivorous plants, this destination offers a mesmerizing experience. Surrounded by temperate rainforests, delightful streams, and rivers that crisscross through the mountains, the area also boasts avocado, yuca, and citrus plantations. Continue to Hacienda Venecia, a local coffee farm and plantation, where we will learn about the process used to turn the humble coffee bean into one of the world's most beloved drinks. Take a walk through the undulating grounds of the farm with its winding rows of plants. Learn how the beans are cleaned and roasted before they are finally brewed and tasted.
Pereira / Medellin


Fly to Medellin, often referred to as the "City of Eternal Spring". Despite having a checkered past, the city has been reborn over the past decade, growing into one of the liveliest and friendliest cities in the world. Stroll through the bustling downtown streets to the famous Botero Plaza featuring 23 sculptures of Botero that have become landmarks of his hometown. Our city tour will bring its dynamic character to life and provide insights into its significant role in both commerce and culture. Take a cable car ride to revel in the incredible panoramic views of the city.
Click Clack Hotel (3 nights)
Santa Fe de Antioquia / Medellin


Santa Fe de Antioquia is a little village located west of Medellin and was the former capital of Antioquia until 1826. It is a UNESCO World Heritage Site due to its beautiful colonial architecture, with buildings dating back to the 17th century. Notably, the Church of Saint Barbara stands as a remarkable architectural gem. During our stay in Antioquia, we will visit the famous Bridge of the West across the Cauca River, which is one of the longest and oldest suspension bridges in Latin America. Return to Medellin this afternoon for some free time to explore or just relax.
Guatape / Medellin


Today, we will have the chance to explore Medellin's rural surroundings, where we can take in the mesmerizing views of undulating hills and lush greenery. Nearby is the remarkable Peñol Boulder, standing at an impressive height of 656 feet. For the truly energetic, there may be an opportunity to climb the 740 steps that lead to the top. Continue east to the village of Guatape know for its gorgeous white and red church and vibrantly painted homes.
Medellin / Cartagena


Late this morning we fly directly to the beautiful Caribbean coast and the historic city of Cartagena. On arrival, following lunch, our guide will take us on a walking excursion through the old town, visiting the convent and church of Saint Peter Claver and the Afro-Caribbean Museum. In the historic centre of Cartagena, colour splashes every corner, balconies overflow with blossoming flowers, and history seeps beneath the ancient wooden doors of colonial buildings. Our boutique colonial hotel is located in the heart of the old quarter, surrounded by wonderful plazas and historic buildings.
Hotel Casa Don Luis (3 nights)   
Baru / Cartagena


Get ready to marvel at Colombia's avian wonders at the National Aviary, a must-see for any bird enthusiast. This remarkable sanctuary gives us front-row seats to the country's world-renowned avian biodiversity. Colombia boasts an unrivalled 1,900+ recorded bird species within its borders. Learn all about the importance of conservation and animal welfare practices. On Cholon Bay, after a pleasant lunch, we cruise among the tiny islands that dot this coast. Enjoy the sparkling white beaches, the turquoise waters and the mangroves along the coast, before returning to Cartagena later this afternoon.
Cartagena


The final day is free at leisure to explore on your own. The city's most iconic landmark is the Castillo San Felipe, the massive fort that dominates the old town and the harbour. Perched atop the highest point overlooking the city, the Convent of Santa Cruz de la Popa offers fantastic views of the sweeping cityscape, the bustling harbour, and  the azure Caribbean Sea spreading to the horizon beyond. This evening, we gather for our special Farewell Dinner.
Cartagena / Canada


All too soon, our Colombian adventure comes to a close - this morning we catch our flights via Bogota to Toronto with connections to our homes across Canada.
Have any questions? Contact Stacey at

sharper

[at]

craigtravel.com

or call 1-800-387-8890

Tour Cost in Canadian Dollars Per Person
Land Only* (Join Bioxury Hotel / Leave at Hotel Casa Don Luis)
$5,995
Halifax / Winnipeg
$7,465
Regina / Saskatoon
$7,565
Calgary / Edmonton / Vancouver
$7,525
To reserve your spot on this tour, please complete the enrollment form, indicating the tour you wish to join and your home city, and forward it with your deposit to:
1092 Mount Pleasant Road
Toronto, ON M4P 2M6
416-484-0926 | 1-800-387-8890
Book with Confidence:
For peace of mind your deposit is fully refundable until November 14, 2023. Learn more...
Deposit is $600 per person. Final payment is due November 15, 2023.
Airfares from other gateways – available on request. Airfares and airlines are subject to change due to factors beyond the control of Craig Travel. Refer to inclusive features for details. *Land only excludes flights and airport transfers. Prices are based on a minimum of 20 members and on rates, taxes, and fees effective May 2023. Prices are subject to change due to factors beyond our control. Group to be escorted with a minimum of 20 travellers. Note: in Colombia, lunch is a large meal. We have included most lunches, allowing you to have a choice for dinner – try some of the excellent local restaurants or have a lighter meal at your hotel.
Insurance is NOT INCLUDED but is highly recommended. Premiums are calculated based on the individual's age, destination (country), trip length, and trip booking window – please contact our staff to receive a quote. Your coverage starts on the effective date of your confirmation of coverage. Please discuss your insurance coverage prior to booking. Refer to terms and conditions for more details.